Founder by
simpurity
, spouse by
leenyland
. Also featuring sims by
simtasia
and
katu
.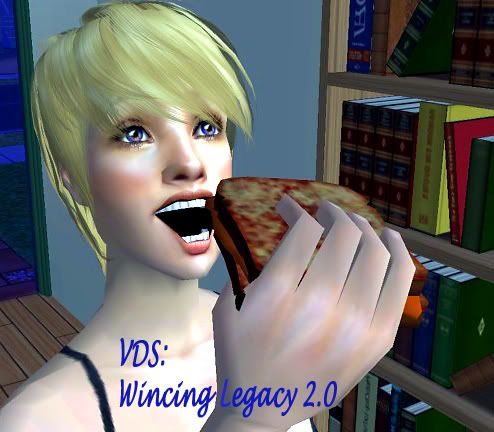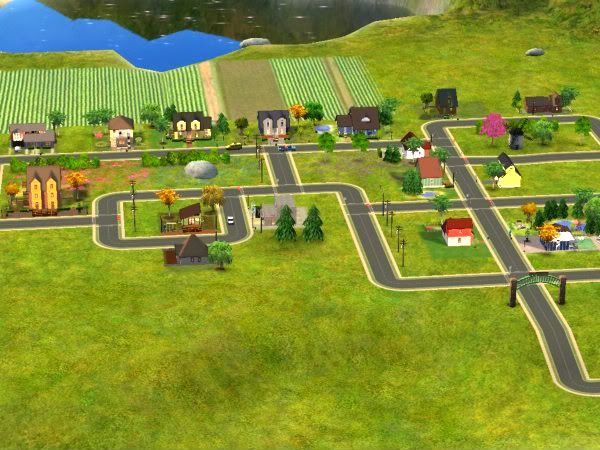 Golden Creek, where all the exciting action will take place. Since I`m too lazy to create a boring old empty neighborhood from scratch, I`m using this lovely one made by Himawara106 from MTS.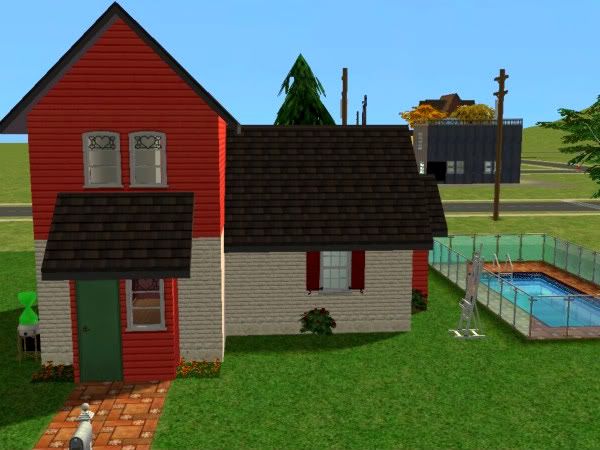 And, this not being a standard legacy challenge, I`ll break my own rules and give our founder a rather pre made 3x3 lot instead of a huge wasteland. It has a pool!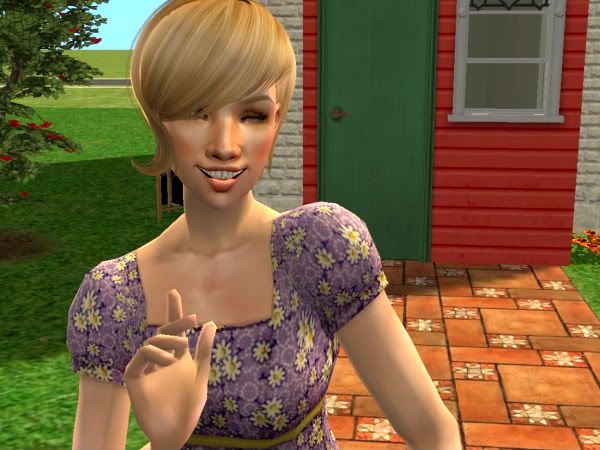 This most recent incarnation is named Ylva Wincing, a lover of grilled cheese, a science hobbyist and a shy, neat Virgo which all make for an unusual combination. She`s too cute for her own good.
Childish, sweet natured and just plain adorable. Which are all weird adjectives when you`re talking about a grown woman with a cheese fetish.
Here before neatly eating the first of her planned two hundred grilled cheese meals.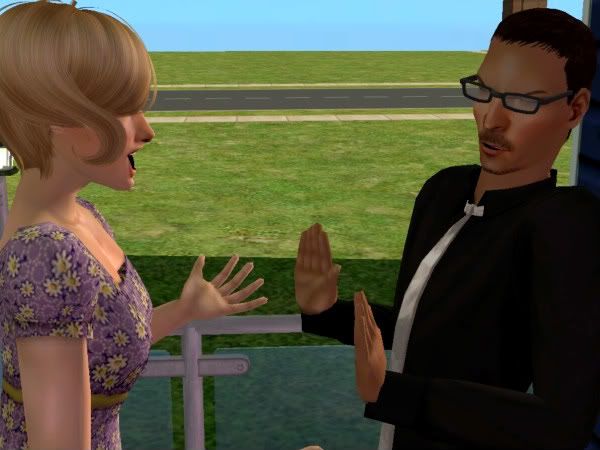 Out for a stroll and to find a like minded soul mate. She met sharply dressed Damon Wade and tried to engage him on the subject of cheese.
Ylva – "Grilled cheese is like the sum of all the beauty and loveliness in the world, don`t you agree?"
Damon – "Kindly back off."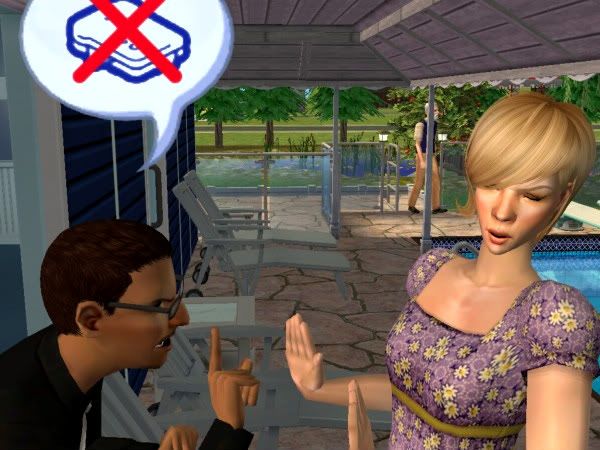 Damon quickly revealed himself to be a cheese phobe. Ylva and her cheese idealism would have none of that. Also, there was a crossed out bolter and all.
Fortunately she bumped into Aidan Roberts at another lot and
found him hot
it was love at first sight. She subtly made her feeling known…
I just had to include this voyeuristic barista rocking some townified glasses – she looks awesome. Yep, just recently learned you could townify accessories. Amazing, I know.
Aidan passes the taking about the wonders of grilled cheese test with flying colors. He seems more enthusiastic about it than Ylva, it`s creepy.
Then he ran away because he had to vomit? Oh well, the things you do for a pretty girl.
Ylva – "Has anyone ever told you how cheestastic you are?"
Aidan – "Er, I assume that`s compliment? And, yeah, they have."
Ylva - "… filled with creamy goodness that I could just eat up!"
Aidan - "I feel flattered, really, but we`re kinda in public here."
Ylva is just terrifyingly intense in her shy flirtation.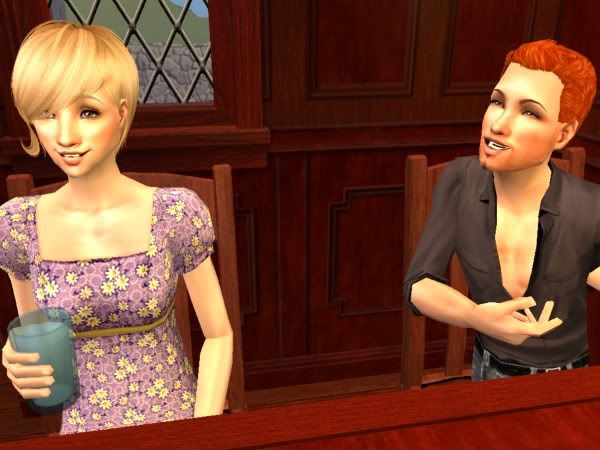 Aidan – *first date nervous chat*
Ylva – "Where`s the grilled cheese? There`s none on the menu. Excuse me, waiter, where`s the grilled cheese? There must be a mistake?"
Ylva – "A restaurant with no grilled cheese… I just feel like something terrible is bound to happen in this awful place."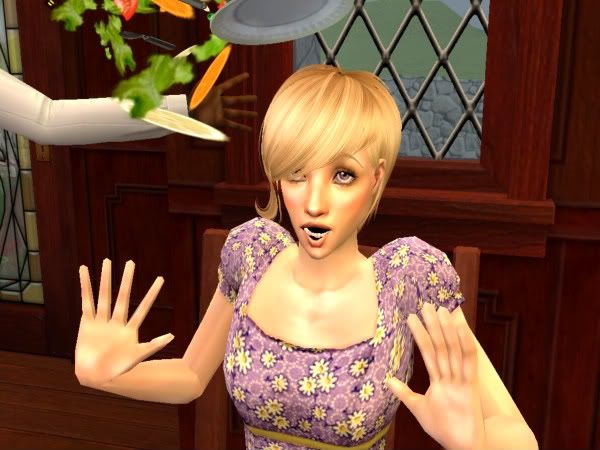 That's it! Golden Creek is filled with cheese phobes!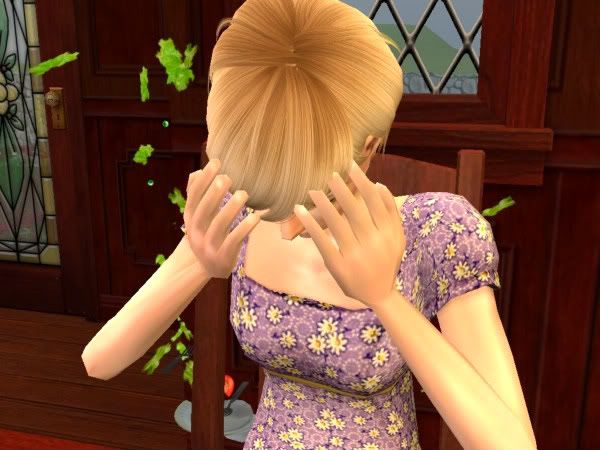 "Cheeseless food! Cheeseless food!"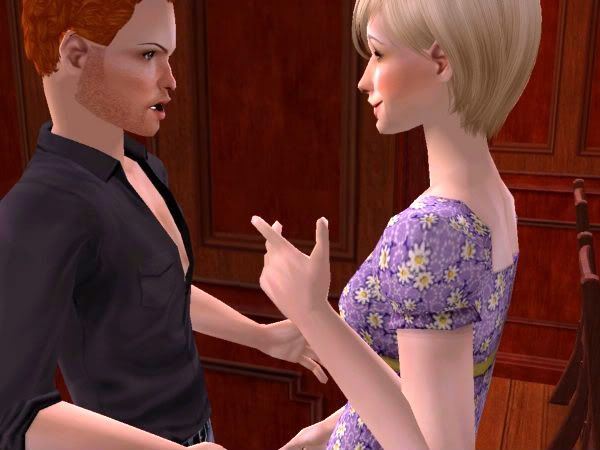 And just to make for an even suckier evening Aidan got all indignant when Ylva asked him if he wanted to finish the date at her place for some non grilled cheese related activities (or maybe a bit related).
Aidan – "I`ll have you know I`m not that kind of guy!"
And this seemed to have offended him so much that he left yet again! Man,
pixel_trade
sims are tough to woo. A normal townie would have Ylva knocked up by now.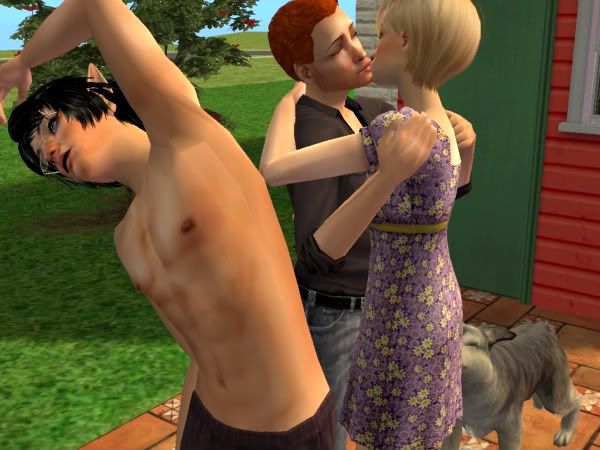 They reconciled on the next day, between a shirtless Bilbo Dork and a disapproving wolf.
And ended up relaxing on their underwear, with Aidan still looking very unsure.
Ylva – "It`s all right, we can just kiss and cuddle and chat about our favorite brands of cheese..."
Now, that won`t do at all.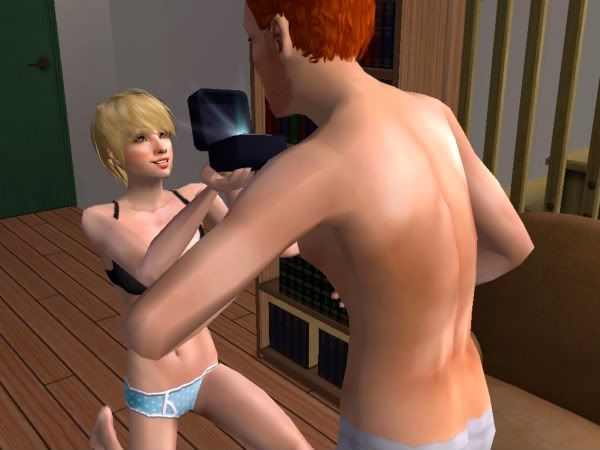 And on to the engagement proposal in your underwear, which is a scenario I can't seem to escape even in this legacy.
Notice Aidan`s look of joy and excitement mixed with something like… fear? Sucks to love a cheesehead, Aidan.
Ylva `s joy at the marriage gave her the power to conjure a grilled cheese out of nothing! It just goes to show that the laws of attraction really work.
Aidan - "Happy, darling?"
Ylva - "Delicious."
Her fist love will never be you.
For the next couple of days, Ylva threw up a lot while defying physics.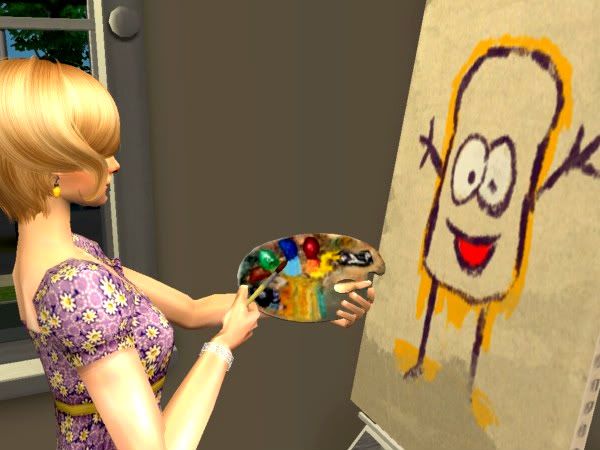 She also gave in to her artistic impulses to paint like a six year old.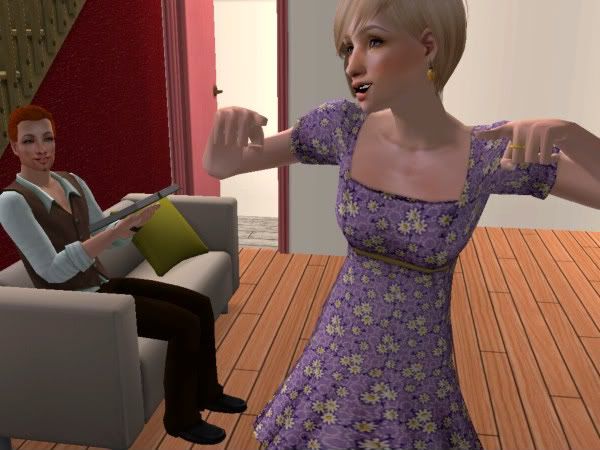 And generally tried to make her husband notice her.
Aidan is a Virgo as well, extremely nice, extremely lazy, extremely neat and a bit of a priss. He seems to believe that if he ignores certain aspects of his wife's personality they`ll just go away.
Ylva – "I`m so quirky and cheerful and everything! Look how I dance like a spaz!"
Aidan – "That`s nice, love."
Aidan dreams big though. He wants to be a Media Magnate and has a variety of interests (as opposed to his wife`s). Space exploring…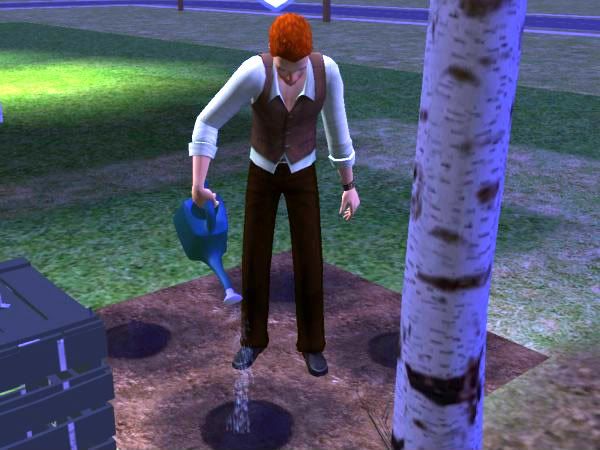 Gardening. And mad skilling sessions which are not pictured here. A true renaissance man.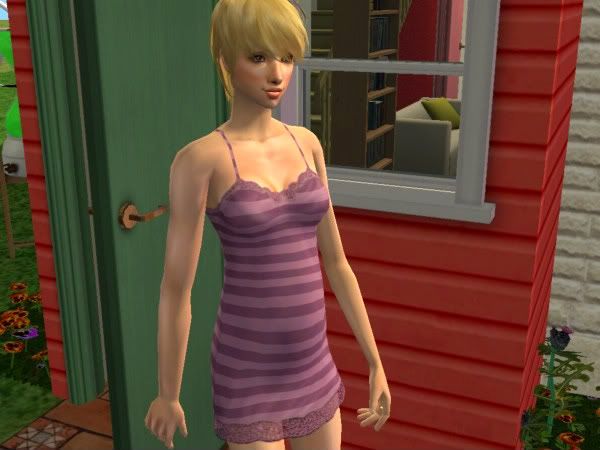 While heavily pregnant Ylva decided to start going to work like this. She`s a SimJazzer Instructor so maybe self expression is encouraged?
Her behavior seemed to border on the extreme sometimes, though.
"Aren`t you a dirty little grilled cheese sandwich? I think it´s time for a nice hot shower, just you and me!"
And further along the pregnancy…
Ylva – "I need to talk about grilled cheese."
Aidan – "But it´s four in the morning…"
Ylva – "Why, yes it is. And I need to talk about grilled cheese."
When your hormonal wife needs to chat about the pleasures of cheese it is wise to humor her, no matter how tired you feel, and try to keep the hand wringing to a minimum.
And on the very next day, physics defying birth!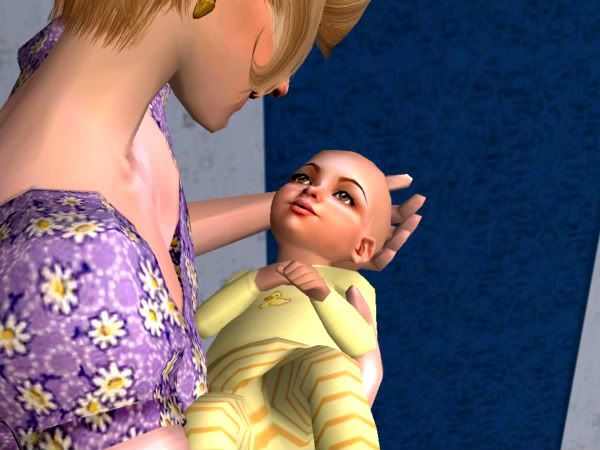 It`s a girl! Welcome, Verdandi Wincing.
"Now, mommy has some grilled cheese in the fridge just begging to be eaten so to the floor you go."
I think it´s time to realize she`s not going to be an ideal mother.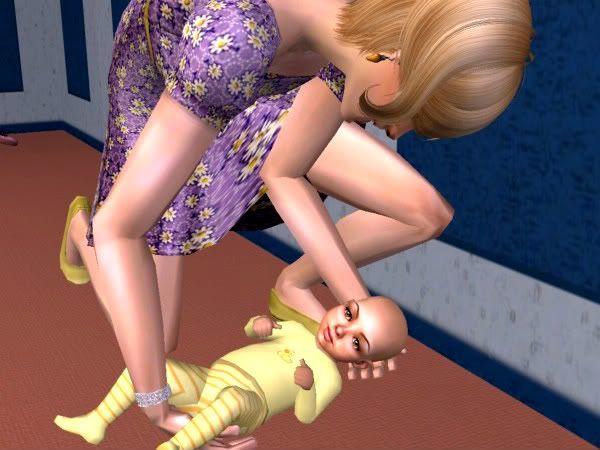 "Now if you were a grilled cheese, you`d be spoiled!"
Poor kid already seems to have a resigned, knowing look on her face.
Too knowing. That`s some serious, concentrated expression for a newly born. She didn't close her eyes once while drinking.
I wonder if Ylva`s all cheese diet while pregnant was that harmless.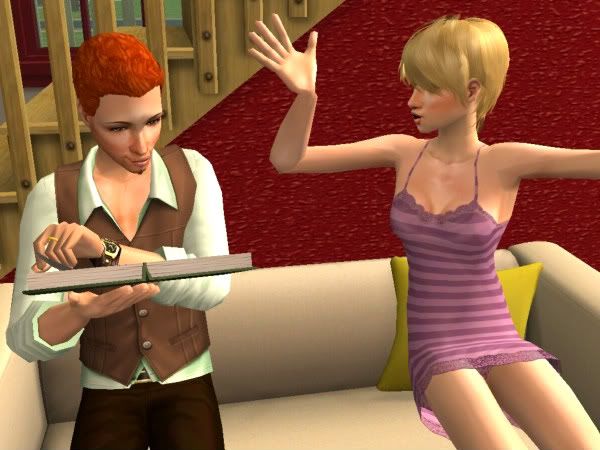 Ylva – "And did you notice when I went aaahhh and then poof the baby was there and then the grilled cheese of celebration…"
Aidan – "It was all very nice."
And thus ends the first week on to the first challenge:
Nobody Expects the Spanish Inquisition: NOT THE FLUFFY CUSHIONS, ANYTHING BUT THAT! All existing chairs/beds in the house must be swapped for the highest comfort replacements. You have the week to achieve this - if you've not earned enough during the week you may sell items, forego food, or whatever is necessary (without cheats) to achieve this goal.
Okay… so the Wincings will have to have at least 9000$ in their household funds till the end of the week and then spend it all till the last simoleon to satisfy Aidan`s (it must be his) wishes for a more comfortable lifestyle. Which would be easy if they weren`t so damn poor to begin with, Ylva having just been demoted and Aidan quitting his old job for his ideal career in journalism and only managing to become a Internet Movie Critic. Guess there`ll be no spare for now.
So, jumping awkwardly on the bandwagon, I too am doing the Viking Death Squad challenge/legacy. Because I`m a masochist I`ll probably add even more challenges based on an scenario randomizer I got from MATY.
Current Mood:

energetic